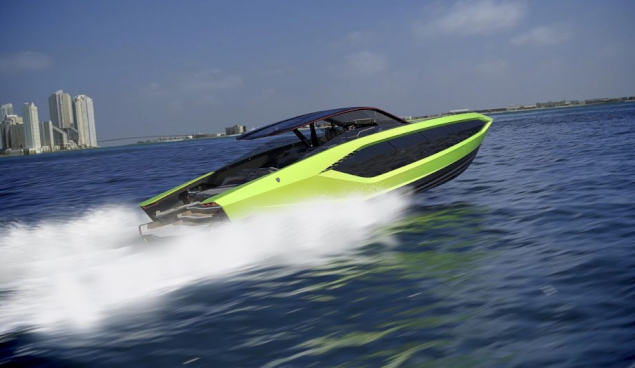 Supercar builder Lamborghini has joined forces with The Italian Sea Group to develop its first ever luxury superboat, the Lamborghini 63.
Called the Tecnomar for Lamborghini 63, it will be the first boat to wear the famous 'fighting bull' logo. Hull No 1 is already under construction and on track to launch at the group's Tecnomar yard in early 2021.
The styling is said to take its inspiration from the 220mph Lamborghini Siàn FKP 37, the limited edition hybrid supercar that combines a petrol V12 engine with an F1 super-capacitor to boost its power and range.
The car references are evident in the Lamborghini 63's sweeping roof line, the glazing in the hull and the sweet nose-covers that conceal the anchor system.
The automotive theme continues inside the Lamborghini 63, with helm seats that look like they could have been plucked straight from a supercar and a start/stop button integrated into the bridge console. Even the 63ft length is a tribute to the supercar builder's foundation in 1963.
Despite Lamborghini's previous history of supplying marinised versions of its legendary 6.0-litre V12 engines to offshore powerboat racing teams during the 1980s and 1990s, the Tecnomar for Lamborghini 63's power will come from two of MAN's latest twin 2,000hp V12 diesels.
Linked to surface-drives to reduce drag at planing speeds, they should deliver a top whack of around 60 knots and an appropriately ostentatious rooster-tail to match those killer looks.
Extensive use of carbon fibre ensures the Lamborghini 63 will displace just 24 tonnes unloaded, relatively light for a boat of this size, but more than 16 times the kerb weight of the latest Lamborghini supercar. Prices for the Tecnomar for Lamborghini 63 start at around £2.7m.
Although this is a first for Lamborghini, it is by no means the only car company to have tried its hand at launching a superboat.
Aston Martin
, AMG Mercedes, Porsche and Lexus have all put their names to supercar inspired boats in recent years while Bugatti has teamed up with superyacht builder Palmer Johnson to develop a 66ft superboat called the Bugatti Niniette.
The Italian Sea Group also builds the Tecnomar Evo 55 sportscruiser and the semi-custom all-aluminium Tecnomar
Evo 120 RPH, as well as custom-built full-displacement steel/aluminium superyachts under the Admiral brand.