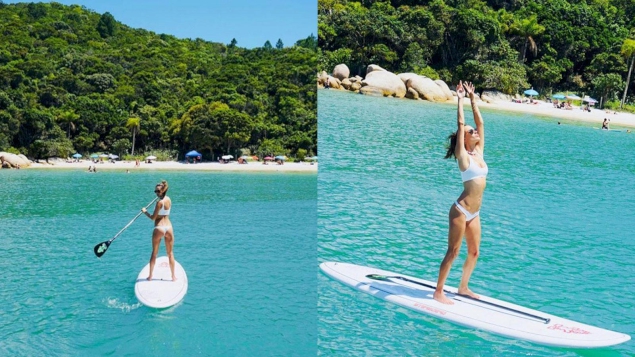 Alessandra Ambrosio
Instagram/@alessandraambrosio
Brazilian model Alessandra Ambrosio showed off her athletic prowess on a stand-up paddleboard while on vacation in her home country in January 2018. Alongside the paddleboard, Ambrosio was also spotted on board a luxury yacht with fellow models Ludi Delfino, Aline e Duda Deboni and Gisele Coria.
Ambrosio is known to be something of a paddleboard pro taking the sport one step further while on vacation in Bora Bora in August 2017 by teaching her daughter Anja a few yoga skills while enjoying some mother-daughter time on the waves . The family also took a boat trip and swam with manta rays and shark while on holiday.
Hailey Baldwin
Instagram/@haileybaldwin
Hailey Baldwin, model and daughter of actor Alec Baldwin, demonstrated the adventurous possibilities of
watersports
when she shared these images of a paddleboarding trip during in August 2017. Baldwin used her stand-up paddleboard to explore narrow passageways and caves that are unreachable by boat and, although the model did not disclose her location, she has recently been spotted in the Bahamas for those wishing to follow in her footsteps.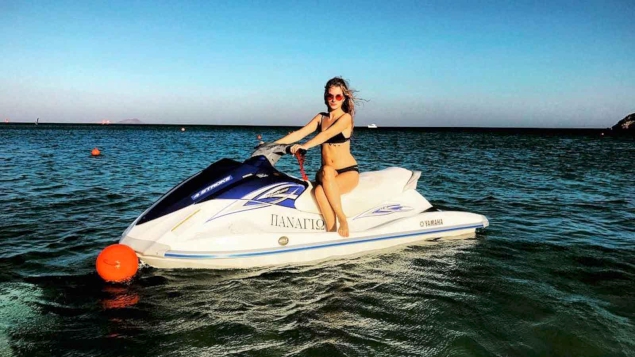 Lottie Moss
Instagram/@lottiemossxo
Lottie Moss, the model sister of fashion icon Kate Moss, shared this snap of herself using a Jet Ski as the perfect prop for a photo opportunity during a vacation in Mykonos in July 2017. Moss has been spotted in a number of Mediterranean yachting hotspots this summer, including on board a luxury yacht in Ibiza, as well as in Marbella, Venice and Kefalonia.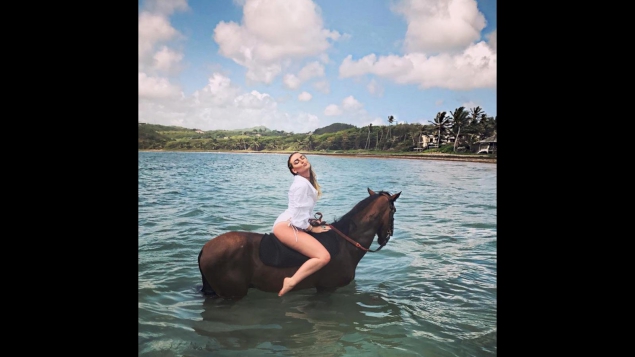 Perrie Edwards
Instagram/@perrieedwards
British pop star Perrie Edwards partook in an unusual water sport during an exotic vacation with her boyfriend, footballer Alex Oxlade-Chamberlain, in June 2017. The Little Mix band member opted for a spot of horse riding and, instead of sticking to the sandy beaches, took her steed in to the balmy waters of her undisclosed tropical destination resulting in some envy-inducing social media snaps.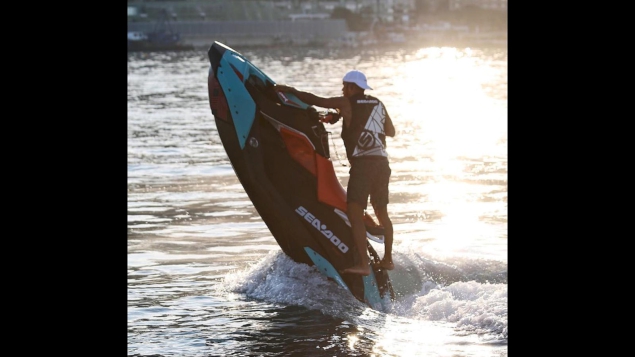 Lewis Hamilton
Instagram/@lewishamilton
As one of the world's top Formula One drivers, it perhaps comes as no surprise that Lewis Hamilton displays equal prowess in the seat of a Jet Ski. While taking some time off on board Alfa Nero after the Monaco Grand Prix 2017, Hamilton was spotted showing off his skills with a number of tricks and daredevil stunts on one of the yacht's many water toys.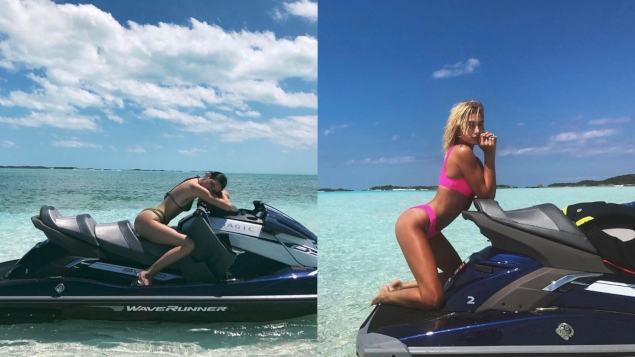 Kendall Jenner and Hailey Baldwin
Instagram/@kendalljenner/@haileybaldwin
Model and reality TV star Kendall Jenner and fellow famous friend Hailey Baldwin shared these images of themselves riding the waves on board Jet Skis in an undisclosed location in May 2017. The pair were spotted relaxing on board a luxury yacht with model Bella Hadid with the trio all taking time off after attending the famous Met Ball in New York earlier in the month.
This is not the girls' first foray into ocean-based thrill seeking. Jenner shared a picture of herself and Baldwin riding horses in the sea in August 2016. While horse riding is not what usually springs to mind when one thinks of '
watersports
', it is a great way to make the most of some of the best beaches in the Caribbean. The celebrity pair were on a superyacht vacation in Turks and Caicos for Kendall's younger sister Kylie's 19th birthday celebrations. Other famous friends joining them included models Jordyn Woods, Bella Hadid, singer Justine Skye and Kylie's boyfriend Tyga.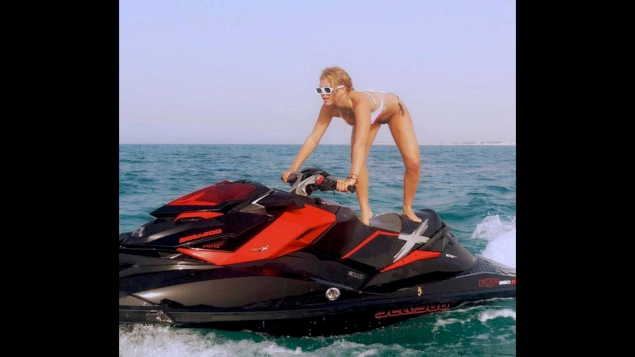 Sofia Richie
Instagram/@sofiarichie
Model and daughter of Lionel Richie, Sofia Richie, demonstrated an interesting Jet Ski driving technique when she posted this photo to social media in April 2017. Richie shared the snap while on vacation in Qatar where she also tried out a number of other high octane pursuits including quad biking and pony trekking in the desert.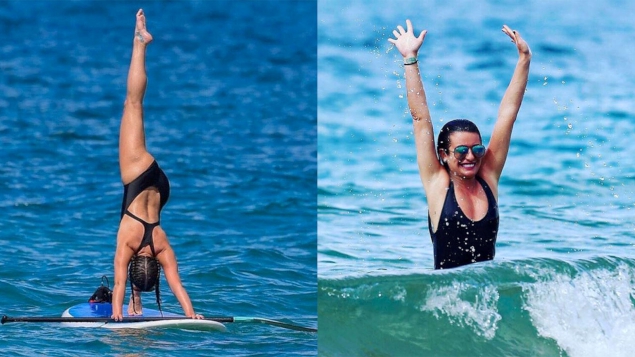 Lea Michele
Instagram/@leamichele
American actress Lea Michele has been spending some time relaxing in Hawaii with friends at the end of February 2017, where she took part in a paddleboard yoga session. The former Glee and Scream Queens star has been posting pictures on Instagram with her friends relaxing on the beach, enjoying cocktails, frolicking in the ocean and showing off more yoga skills in an infinity pool.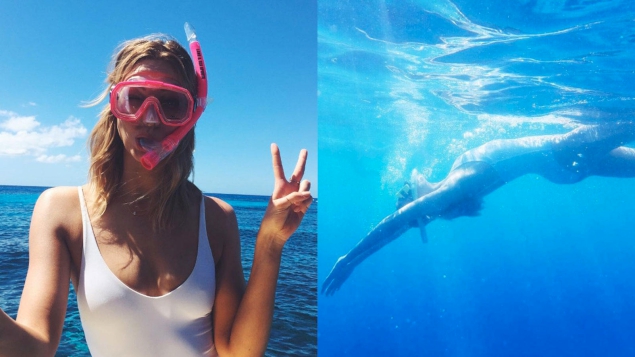 Karlie Kloss
Instagram/@karliekloss
Karlie Kloss, a supermodel famous for her love of sports, ticked off one of her bucket list experiences in February 2017 when she went snorkelling on the Great Barrier Reef. The American model posted numerous images of herself both above and below the waves at the UNESCO World Heritage site famous for its abundance of wildlife. Kloss was also spotted showing off her wakeboarding prowess in the Caribbean in January 2017. Kloss tried her hand at the popular beach sport during a New Year's vacation in St Barts where she was joined by fellow famous friend Derek Blasberg on board a luxury yacht for the festivities.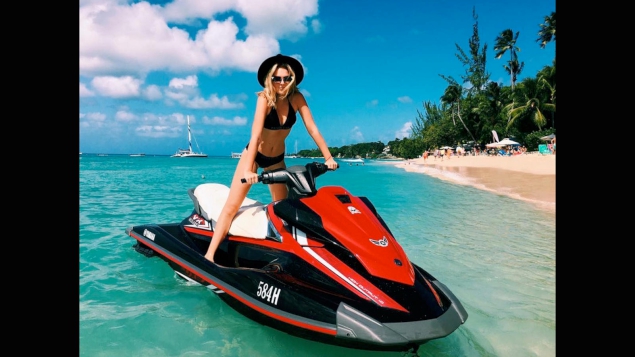 Tallia Storm
Instagram/@tallia_storm
Tallia Storm was another celebrity spotted on a superyacht vacation in the Caribbean for New Year's Eve 2016. The Scottish singer/songwriter headed to Barbados with her family and made the most of her time on the small island by zipping around its coastline - and taking in all the neighbouring yachts - in style on a Jet Ski.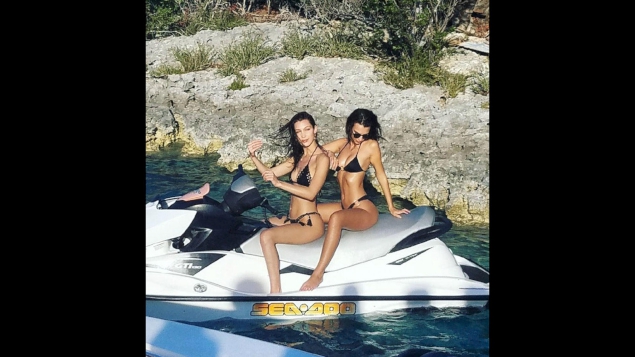 Bella Hadid and Emily Ratajkowski
Instagram/@emrata
Models Bella Hadid and Emily Ratajkowski were spotted using a thrilling Jet Ski ride as an excellent opportunity for some social media snaps in the Bahamas in December 2016. The pair opted for a Seadoo - one of the best Jet Skis for superyachts - as their vessel of choice and spent plenty of time exploring the waters surrounding their yacht. The pair were in the Bahamas with a group of model colleagues to promote Fyre Festival - a newly launched luxury music festival which is definitely one of the upcoming events not to miss in the Caribbean.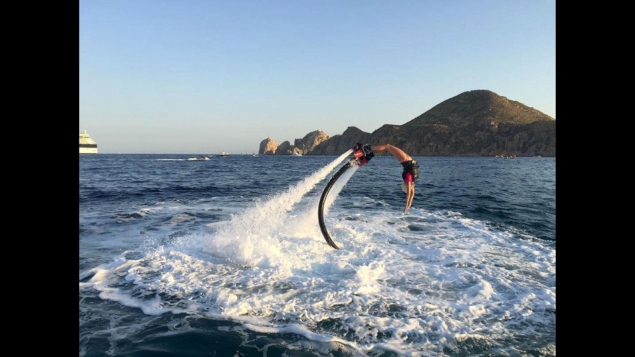 Nina Dobrev
Instagram/@ninadobrev
American actress Nina Dobrev showed off her flyboarding skills during a vacation in Cabo in December 2016. Dobrev was joined by a group of friends for a luxury yacht cruise around the Mexican destination and made good use of the yacht's water toys, posting this image with the caption, 'Not too shabby for my first time.'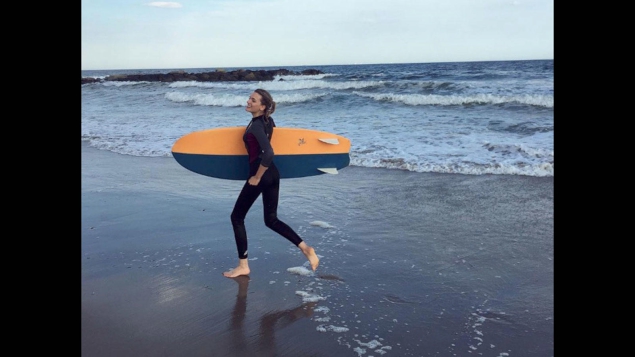 Lily Donaldson
Instagram/@lilydonaldson
British model Lily Donaldson braved the cold in November 2016 to show off her surfing skills at Rockaway Beach in Queens, New York. The model shared this snap with the caption "That was chilly" but, with the help of one of the best wetsuits, she was still smiling at the end of her surfing session.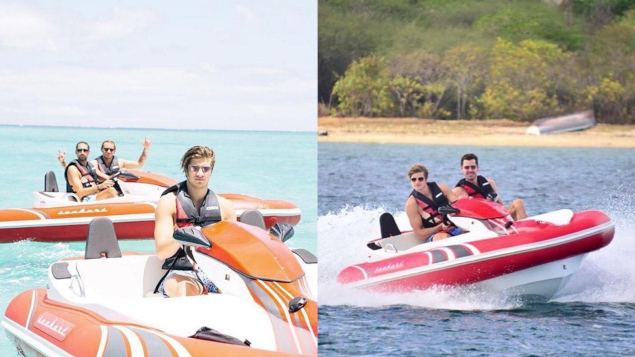 Toby Huntington-Whiteley
Instagram/@taylormorrisldn/@thuntingtonwhiteley
British model Toby Huntington-Whiteley took some time our during a shoot for Taylor Morris Eyewear to enjoy a morning of high-octane sea karting in Mauritius. Huntington-Whiteley was joined by fellow thrill-seekers Taylor Morris founder, and former star of Made In Chelsea, Hugo Taylor and photographer Grey Hutton for the trip.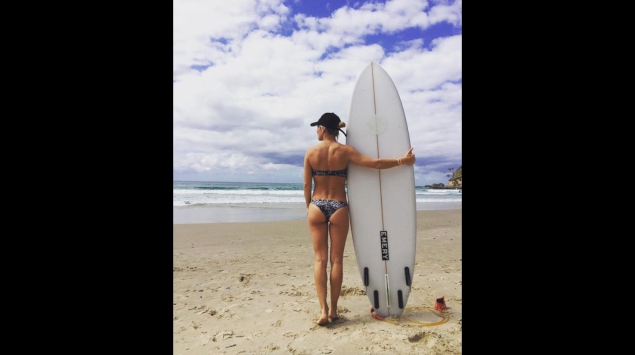 Elsa Pataky
Instagram/@elsapatakyconfidential
Spanish model and actress Elsa Pataky shared this snap with her followers before hitting the waves to enjoy the first warm days of spring in Australia. The star was visiting Hamilton Island with her husband, Australian actor Chris Hemsworth, and the pair enjoyed all the adventurous activities the destination has to offer including hiking, water sports and spending time at the local koala sanctuary.
Mariah Carey
Instagram/@mariahcarey
American pop icon Mariah Carey shared this cute snap with her daughter Monroe on board a jet ski during a superyacht vacation in Santorini, Greece in September 2016. The pair were joined by Carey's son Moroccan and partner James Packer on board Packer's explorer yacht Arctic P for a cruise around some of the most stunning Greek islands and were kept well entertained by the yacht's extensive toy box.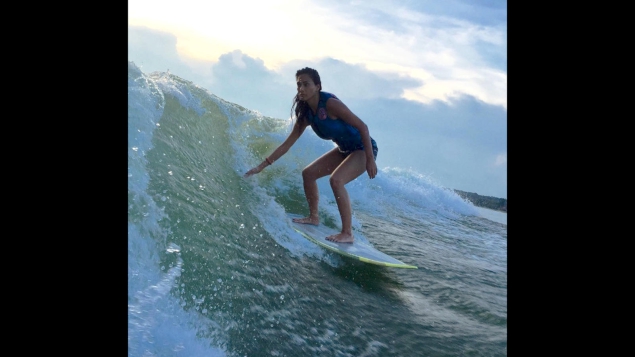 Nicole Scherzinger
Instagram/@nicolescherzy
American pop star Nicole Scherzinger tried her hand at wake surfing while on holiday in the South of France in September 2016. Despite captioning the image to say it was her first time, Scherzinger looks in complete control with a professional stance and concentration. She has been spending a lot of time at sea recently in preparation for her upcoming role in Disney animation Moana - in which she plays Sina, the mother of a princess from the Motunui Island tribe in the South Pacific who sets sail in search of a mythical island - and was most recently spotted taking a superyacht vacation in Croatia.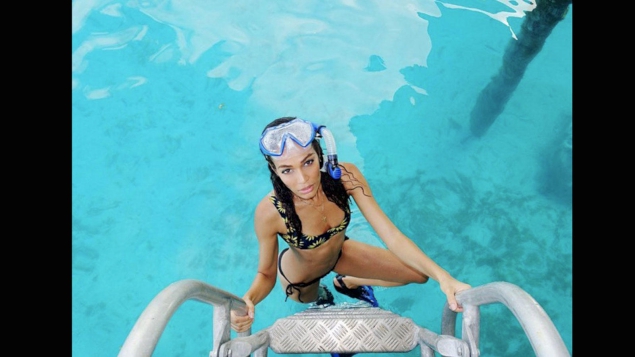 Joan Smalls
Instagram/@joansmalls
Puerto Rican model Joan Smalls explored the tropical ocean depths on a recent vacation to Bora Bora, sharing this stylish snap during a snorkelling trip in the exotic location. The outgoing model also had a go on one of the best stand-up paddleboards, swam with rays and took a cycle tour of the French Polynesian island while on holiday.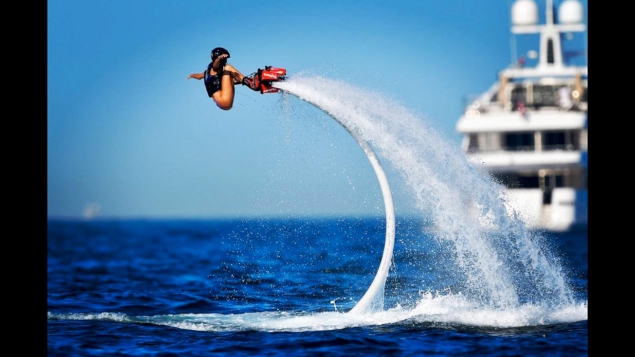 Sara Sampaio
Instagram/@sarasampaio
Victoria's Secret model Sara Sampaio was spotted holidaying with her boyfriend Oliver Ripley onboard the 85.95 metre Ecstasea in the French Riviera in August 2016. They were both pictured flyboarding, a celebrity craze which has been tried by the likes of Kendall and Kylie Jenner, Leonardo DiCaprio and Michelle Rodriguez and is undoubtedly one of the best toys for your superyacht.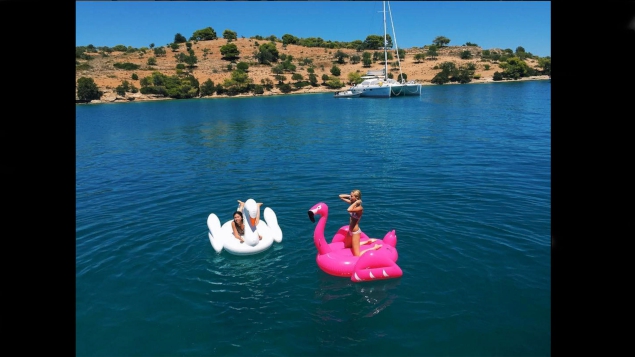 Instagram/@olympiagreece
Princess
Maria-Olympia of Greece and Denmark opted for a relaxed pastime on the sea, pictured in July 2016 with a friend on giant inflatable birds. The young princess is one of our favourite royals at sea and is no stranger to yacht cruises around the Mediterranean. This summer she and her family spent time onboard sailing yacht _Mari-Cha III _owned by Maria-Olympia's maternal grandfather and successful sailor Robert Warren Miller.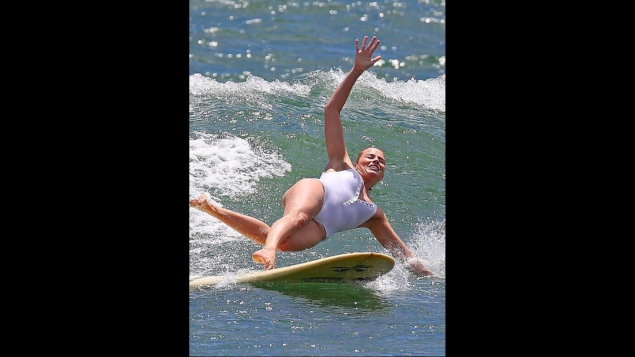 Margot Robbie
Instagram/@margotrobbie
Pictured whilst on holiday in Hawaii with her boyfriend Tom Ackerley in July 2016, Margot Robbie, star of Suicide Squad and Wolf of Wall Street, shared this surfing mishap with her Instagram followers. Robbie has been seen on a number of yacht vacations while her character, Nadine, in_ Wolf of Wall Street_ is gifted a yacht by her on-screen husband Jordan Belfort (played by Leonardo DiCaprio). The yacht that starred in this blockbuster film was actually 44.81 metre _M3 _and was refitted in 2011 for the role.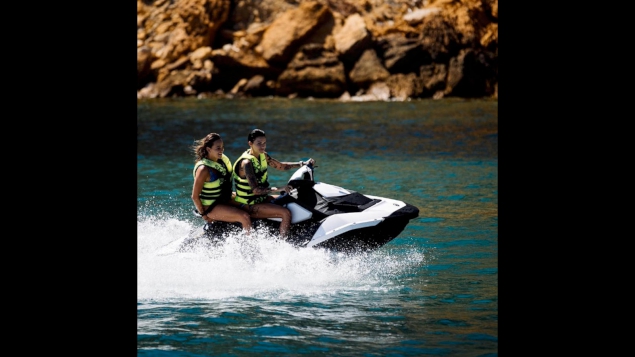 Ruby Rose
Instagram/@rubyrose
Ruby Rose and friend Courtney Africa were spotted jet skiing off the coast of Ibiza while staying on a luxury yacht in August 2016. Alongside Africa, Ruby was also joined by girlfriend Harley Gusman, The Faders DJ Milly Gattegno, hair stylist Castillo and friend Madeleine de Garis. In 2015 Ruby enjoyed a similar holiday onboard the luxury yacht _Zazou I _with friends.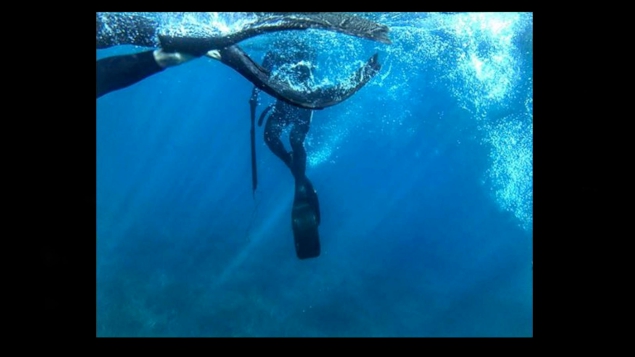 Cindy Bruna
Instagram/@cindybruna
French model Cindy Bruna is a fan of spear fishing as shown in this picture she shared from a Mediterranean vacation in August 2016. Earlier this year Bruna attended the Cannes Film Festival as an ambassador for Chopard jewellery where she managed to squeeze in some time sunbathing on board a yacht.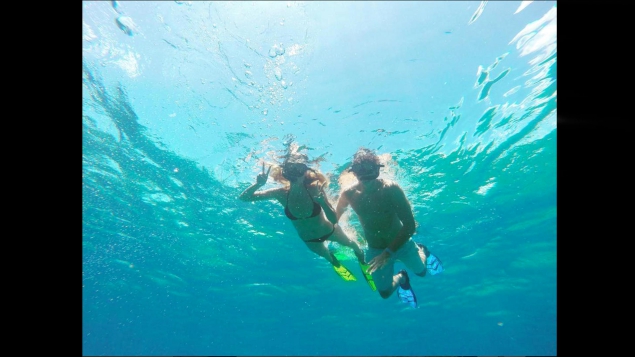 Heidi Klum
Instagram/@heidiklum
Heidi Klum, the German-American model and business woman, posted a picture of herself snorkelling with her boyfriend Vito Schnabel in summer 2015. The couple were staying on a yacht in St Tropez to attend the Leonardo DiCaprio Foundation Gala in aid of environmental causes alongside a host of other celebrity guests. Klum is a model often spotted on yachts and joined many other famous faces ringing in the New Year on a yacht in St Barts in 2016.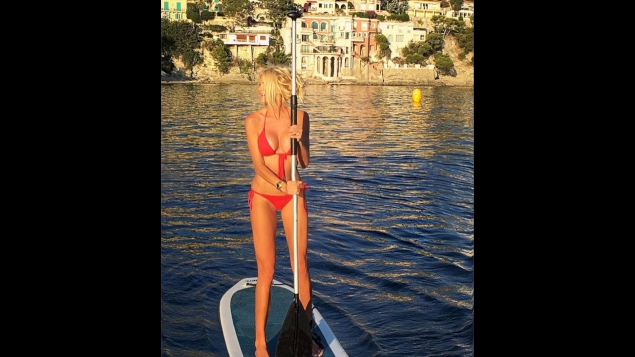 Victoria Silvstedt
Instagram/@victoriasilvstedt
Victoria Silvstedt, the Swedish model and actress, is seen here partaking in a form of exercise popular amongst fitness fanatics. Stand-up paddleboarding is loved by many celebs including Alessandro Ambrosio, Will Smith and Cindy Crawford. Silvstedt is known to be a big fan of luxury yachts and has shared pictures from vacations on board both Silver Fast in St Tropez and Lioness V off the Costa Smeralda.