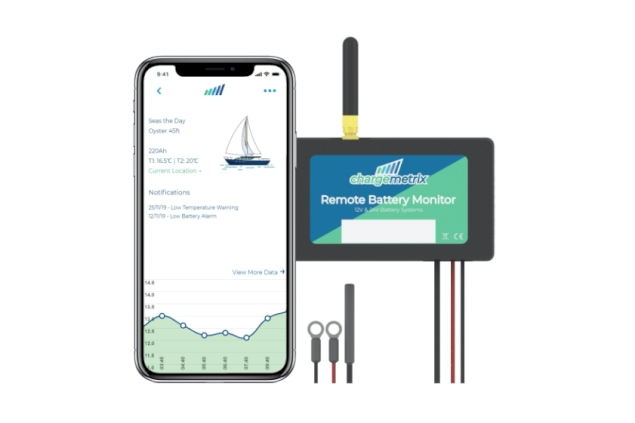 Isle of Wight-based Chargemetrix has launched an automatic remote monitoring system for all 12-volt batteries. Ideal for boats, Chargemetrix delivers real-time remote reporting on battery voltage, temperature and even the vessel's location almost anywhere in the world.
Monitoring batteries can significantly extend battery life and reduce both cost and waste by prompting the owner to take action before degradation and damage occurs.
Chargemetrix enables boat owners to check battery status via an app on any internet-connected device. The app provides real-time information plus a 30-day history, and can send push alerts such as low voltage or change of location.
This innovative product comprises a water-resistant sensor with a built-in mobile antenna plus a web app. The hardware is said to take less than 20 minutes to install and requires no specialist knowledge. Once connected, the user registers on the app, and the data feed starts immediately.
"Many owners don't live close to their boats, so can have a nasty surprise when they turn the key, and nothing happens," says Robert Kettlety, Director of Chargemetrix. "I wanted to provide a simple, competitive and cost-effective solution that would solve the problem for boat owners."
Multiple Chargemetrix devices can be connected to the same app account, providing a dashboard for owners with lots of 'toys', or charter fleet managers, sea schools, marinas and anyone concerned in the boat, leisure or hire industry.
The Chargemetrix has been designed from the ground up to reduce CO2 and waste. Extending the life of existing batteries reduces the burden on raw materials and the impact of emissions for shipping new products. The Chargemetrix hardware is manufactured from a plant-based bioplastic with fully recyclable packaging. As well as being fully recyclable, the slim, light packaging minimises shipping impact, and is suitable for normal mail deliveries.