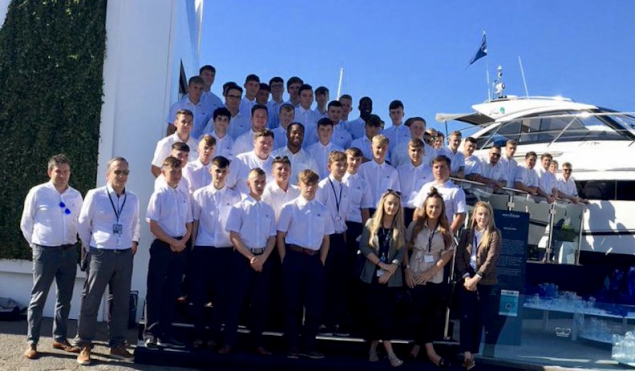 Builder confirms new partnership with South Devon College
Princess Yachts
is more than doubling the number of apprentices it welcomes to its ranks, moving its training facility to the Marine Academy of South Devon College on the banks of the River Dart in the UK.
The leap from 20 to 42 trainees reflects what
Princess
describes as a "stellar 24 months for the business", which saw record results in 2018, and a solid commitment to the expansion of its business.
Unknown
Princess Yachts
is one of the biggest employers in the South of England, and to support the expansion South Devon College will provide a dedicated workshop for
Princess
apprentices to undertake specialist project activities. Apprentices will receive what's described as an "immersive experience" of all operations over the four-year traineeship, with the workshop authentically replicating the assembly line, right down to the scheduled 'buzzer' break times.
Paul Turner, HR director,
Princess Yachts
said: "
Princess Yachts
has always believed in inspiring people to achieve their best, investing heavily in its yearly apprenticeship scheme. The doubling of the intake for 2019 is not only a commitment to shaping theworkforce of tomorrow, but validation of
Princess
Yacht's robustness after an outstanding two years of growth. We are proud of the fact that virtually all apprentices move into permanent employment with
Princess
following the conclusion of their four-yearcourses."
From September,
Princess Yachts
' team of first-class apprentices will be given the full experience of what is to come from working for the yacht builders, with every detail of the assembly line replicated in the
Princess
-branded workshop at South Devon College's marine base at Noss on Dart Marina.
The college's Marine Academy offers a working boatyard with 10 vessels on which to work and train and the 90 square metre
Princess
facility will house a mockup hull, on which apprentices will practise their areas of specialism in relation to their individual apprenticeship.
Through on-and off-water activities, trainees will be immersed in their chosen area of expertise but will also receive full exposure to each of the other roles involved in the building of luxury yachts, including the X95 'superfly' coming later this year. The college week will strictly follow
Princess Yachts
' working hours, with South Devon College providing a coach to pick up apprentices from
Princess Yachts
' Coypool base at 7am, returning to the site at 5pm.
Each candidate will receive the Open Awards Exploring Maritime Skills qualification, as well as additional skills in lean manufacturing, problem solving, creative thinking, effective communications, leadership and aftersales.
A host of other qualifications will be provided by South Devon College, including the Royal Yachting Association (
RYA
) Survival,
RYA
VHR Radio Operators License and
RYA
First Aid.