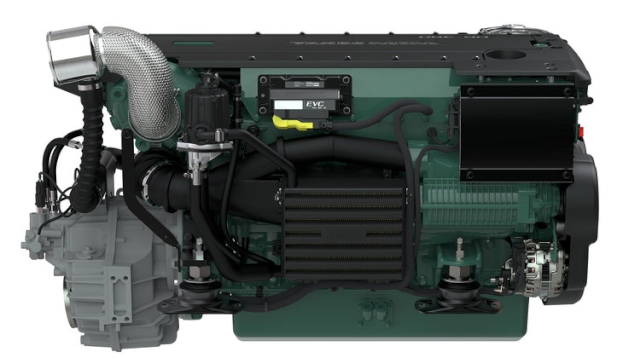 After producing more than 100,000 D4 and D6 marine diesel engines since the unit was first introduced in 2003, Volvo Penta has now given the unit a complete update, cutting operating costs by a third.
Updates include newly designed engines, a completely new aquamatic sterndrive, updated IPS drive and an upgraded electronic vessel control system, all of which not only cut costs but also give more power and reliability.
The engines have undergone 300.000 engineering hours, explained Ingela Nordström, D4/D6 product manager, with 50 people working full time for more than three years on the new products.
Investments have been made in product line technology and 40,000 hours of testing have been carried out including field tests equivalent to a distance of eight times around the world.
Footprint
The new engines are available in three different variants: Volvo Penta IPS, inboard and Aquamatic sterndrive and fit on the same footprint as existing units.
Other improvements include a new engine management system, new fuel injection system, new turbo charger and a new supercharger.
The cylinder head, pistons and valves are new to cope with the increased performance and the crankshaft is stronger to handle the bigger loads.
The engines have been designed to cost less to maintain, with longer service intervals and fewer service items.
The DPI drive has seen big changes with a new hydraulic clutch for silent and smooth shifting, as well as slipping at low engine speeds for added manoeuvrability and higher comfort at low boat speeds.
New generation
The hydraulic clutch, together with steer-by-wire – which is now standard for DPI – gives an improved joystick docking function. The DPI driveline now also comes with Volvo Penta's Dynamic Positioning System that automatically maintains a boat's heading and position. The Inboard version is also available for shaft and water-jet transmissions.
A new generation of Volvo Penta's Electronic Vessel Control – EVC2 – has been developed, the first major upgrade since the system was launched in 2003.
With an all-new operating system, the EVC2 is now more independent of the engine than before and will enable better remote diagnostics and connectivity.
The 3.7 litre D4 and 5.5 litre D6 have power outputs of between 150 to 480hp and use between 0.5% to 7.0% less fuel than their predecessors.